The Trail Crew is the current caretaker of the USFS Lookout Loop, Staging Area 1, 2 and 3 located at Rowher Flats OHV park in Santa Clarita, California. In 2016 we officially added the Sawmill Trail and Sawmill Camp Ground in Lake Hughes, California in an effort to strengthen our partnership with our local USFS office. We schedule regular visits to these areas where our members volunteer their time to clean up debris from the area.
In 2017 The Trail Crew received a Certificate of Appreciation from the US Forest Service (Santa Clara Mojave River Rangers District) for our volunteer efforts in 2016. I want to personally thank all the Trail Crew members that made this possible. We look forward to increasing our efforts as caretakers of these local trails in 2017.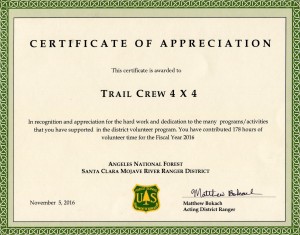 Stay tuned for future partnerships with the United States Forest Service where the Trail Crew will take on the responsibility of cleaning and sponsoring other trails in the Southern California area.
Samuel Cervantes
Trail Crew Member Volunteer Patrol Log Sheet:
https://docs.google.com/document/d/1lSDcJ4b-FEEQBQCimUrQrNa2aOVpSCA0jHCcSmYifK0/edit?usp=sharing
Below are some photos from some of the previous runs and clean-up events: